My Shoujo Manga Reading List #1
Hey lovely people on the internet! It's me Jenny~
Everyone dreams about finding true love, right? Some people are trying really hard and are showing a lot of effort and then there are some people, who are like me. People who don't have the time or wish for that. People who are quite lazy and show their passion for unreal characters... I guess that everyone should accept these type of people! So here I am....a girl who loves shoujo manga and is quite picky about them^^ So today I want to recommend you 3 shoujo manga, which I absolutely adore! Actually, I'm reading over 15 shoujo manga right now (haha)
Hirunaka No Ryuusei
ひるなかの流星
Volumes:12
Chapters:87
Status: Completed
Published: May 20, 2011 to Nov 5, 2014
Genres:
Comedy
,
Romance
,
School
,
Shoujo
,
Slice of Life
Plot:
15-year-old country girl, Suzume Yosano, has to move to Tokyo to live with her uncle due to her father's transfer. She bumps into a mysterious man who ends up taking her to her uncle's place after she gets lost. Turns out, Suzume will be seeing him a lot more often once she starts school because... he's her homeroom teacher!?
My Opinion:
The story is deceptively simplistic in that it reads like any other school, slice of life shoujo manga you have ever seen. Suzume is a country girl that moves to the city, and the mysterious man that helps her when she gets lost in the city happens to be her homeroom teacher. It would only sound more cliche if there was some romantic development between the two. Well, of course there is—its a romance manga, after all. But at her school she meets a classmate, named Mamura, and there is also going to be a love triangle.
I like that the student-teacher relationship is a really realistic shoujo manga, but I won't tell you with who Suzume ends up.....It was for me a very hard decision between Shishio (teacher) and Mamura (classmate), because every character is unique and lovable in their own way. Almost everyone is multi-faceted and goes through a development. I need to say that the art is phenomenal, not just because it is beautiful! It totally gave you the feeling, that you belonged to the story.
I do love this manga series and I keep rereading it c: It's very funny and I laughed a lot. I think that this is one of my favorite manga. I'm still crying, because of the ending haha
Btw I've heard that Yamamori Mika will release a new manga soon and I'm really excited! She is a really talented and hardworking mangaka!! :)
Shishio
Hana-kun to Koisuru Watashi -

花君と恋する私
Chapters: Unknown
Status: On Going
Published:Apr 13, 2011 to ?
Genres:
Comedy
,
Romance
,
School
,
Shoujo
,
Slice of Life
Serialization:
Bessatsu Friend
Plot:
Nanase Sakashita is good at playing the role of Model Student but that doesn't stop her from taking an interest in Hana-kun, the schools delinquent. Hana-kun accidentally drops a small box while sneaking around on the school grounds. When Nanase tries to return the box, Hana-kun tells her to keep it for its already too late to give it to the person he likes, who is this person?
My Opinion:
Hana-kun to Koisuru Watashi is somehow something new to the shoujo world. Why? At first, you see the boy introduced as a "delinquent." Yes, I know that's been used a lot, but wait. So the "delinquent" Hana is misunderstood, however. He isn't not the typical tough guy with a rarely shown kind side, he's a bit on the quiet side and because of the way others talk about him, he's mistaken as a bad boy. Nanase, the heroine, didn't exactly see him in a good way. She was a bit afraid of him, but, after a while and after just a few initial misunderstandings (which are resolved pretty quickly), she learns that he's kind, a good person, and that he's caring. I really like how Nanase is not the typical shoujo girl, who blushes a lot, isn't smart/pretty or a loner. But she is the opposite, which I find amazing!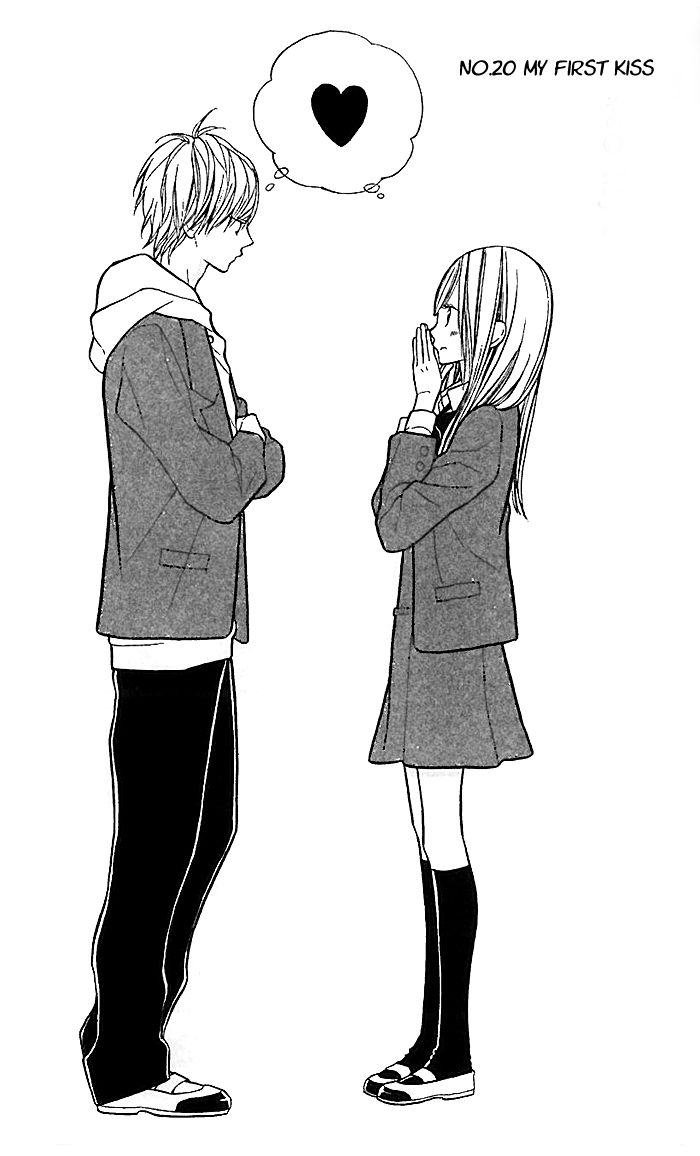 The art is not as pretty as 'Hirunaka No Ryuusei', but it's still nice. I love how the characters are handled and written. Plus, the recent plot twist made my heart skip a beat!
Chapters: Unknown
Status: On Going
Published: Mar 13, 2013 to ?
Genres:
Romance
,
School
,
Shoujo
Serialization:
Bessatsu Margaret
Plot:
Ririko lost her mother when she was 5, therefore she has to take care of her father and her younger brother. Minato the male protagonist has the same loss and a broken relationship with his father. There is a huge distance in their financial and social position, but still a slowly growing relationship starts between them.
My Opinion:
ReRe Hello is a cute, refreshing shoujo manga with surprisingly normal, yet lovable characters.
It's nice to see that this shoujo manga is not overdramatized, even though the two characters have got a very tragic background. For some it could be a bit boring, but their relationship is really cute and funny! You will definitely fall in love with the characters, because the female lead is such an admirable girl. She's not the typical shoujo girl, instead of that she is very brave and hardworking. The boy is adorkable! The art is very pretty and nice to look at.